Koh Samui Info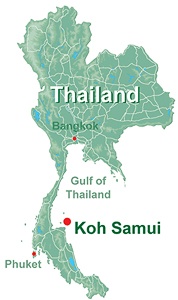 Koh Samui is the island of thousands of coconut trees and the third largest island in Thailand (only Phuket and Koh Chang are larger in size). The total area of the island is about 250 km² and it is located in the Gulf of Thailand (East coast of Southern Thailand), 700 km South of Bangkok in the Surat Thani province. The city of Suratthani (which is the closest continental city) is about 60 kilometers westward. There were no roads or cars on Samui until the early 1940's, but in 1973 a 60 km long concrete road was built around the island. The airport on Koh Samui was built in 1989 and it was renovated in 2007. It is often considered as one of the most beautiful and exotic airports in the world.
This tropical island was discovered in the beginning of the 1970's by backpackers, when there were only huts without electricity and tap water and a population which lived mainly on fishing and coconut plantations. Presently, Koh Samui still sends more than 2 million of coconuts a month to Bangkok. This tropical island is lined with coconut palms and white sandy beaches. Koh Samui became a choice destination in Asia and, today, Samui has built itself a robust reputation as a small tropical paradise.
Well known beaches are Chaweng, Lamai, Bophut, Big Buddha, Choeng Mon, Hua Thanon and Maenam. Samui also has many sister islands; including Koh Tao (top diving destination in Asia), Koh Phangan (known for its Full Moon Party's etc.), Angthong National Marine Park, Koh Tan and the spectacular Koh Nang Yuan.
Samui boasts lush tropical vegetation, waterfalls, idyllic beaches and numerous Buddhist temples. Some activities include elephant rides, Thai boxing (Muay Thai), go-cart racing, ATV tours, zip-line tours, golf, jungle tours, culture/temple visits, boat trips, fishing, diving, mountain island tours and spa/ wellness visits, shopping or just strolling around the island with a motorbike or car. With its nice population and beautiful flora and fauna, Koh Samui has become a popular destination for all.
CLIMATE
The climate is very pleasant all year round, with temperatures varying between 25 and 34 degrees Celsius. There are three seasons; warm and dry season from February till May, rainy season from the end of September till November and "cool" season which extends from October till January, although the climate is tropical-warm throughout the year. From February till October, the average temperature is from 32 to 38 degrees, but from July till September, there can be some showers, but only for a few hours. Rainy season often amounts in fact to some 'refreshing' showers followed by the return of the sun. The climate is tropical so very humid all year round, but Samui remains always refreshed by a pleasant sea breeze blowing from the Gulf.
POPULATION
Samui counts a population of about 60,000. The Thais are mainly Buddhists with a minority of Muslims, especially concentrated in Hua Thanon village and in the neighborhood of Nathon town. There is also a small Chinese population and the remaining are expats who are working on the island or who have retired to the island.
TRANSPORTAION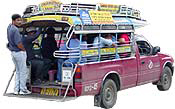 Koh Samui Airport (USM) is a private airport originally built by Bangkok Airways, which is still the main operator and was for a long time the only airline with services to Ko Samui from mainland Thailand. The airport is additionally served by Thai Airways International. Several ferries connect the island with the mainland, including the car ferry from Don Sak to a pier in the west of the island, south of the main town Nathon. Public buses to all parts of the mainland operate from a small bus station located in the south of Nathon. Songthaews (tuk-tuk style buses) circle the ring road, and private taxis are available throughout the island, although these are often criticized for failure to use meters and flagrant overcharging. Bangkok Airways flight schedule is found here.
LIFE ON THE ISLAND
Life on Samui Island is relaxing and the Thais are a passive natural people and very patient. Smiling is the universal language even though sometimes we have some difficulties understanding each other. On the other hand, most of the staff in hotels, restaurants, travel agents and other tourism related businesses are proficient enough in English. If you enter a temple or a house, it is a custom to leave your shoes outside, also do not point to people or show the bottom of your feet and it is considered impolite. When you will go visit Buddha monuments, please try to dress suitably. Try to avoid strolling in temples in swimming apparel for example, even though generally they are rather tolerant. The short trousers are not a problem as a rule in the temples of the island.
LOCAL FOOD
In general, Southern Thai food is renowned for its spiciness. Much of the cuisine has its origins in Malay, Indonesian and Indian food. Favorite dishes from the south include Indian-style Muslim curry (massaman), rice noodles in fish curry sauce (Khanom Jeen) and chicken biryani.
Local food in Koh Samui and its province of Surat Thani are salted eggs and rambutan. There are, of course, a wide variety of European restaurants and other Asian cuisine.
MEDICAL CARE
There are four international private hospitals on Samui; including Samui International Hospital on the Beach Road in north Chaweng, Thai International off the Lake Road in Chaweng, Bandon Hospital on the ring road and Bangkok Samui Hospital in Chaweng. The Government Hospital is in Nathon. There are also numerous clinics and pharmacies around the island.